Hello Digital Planners Peeps!
Welcome onboard the note-taking on the iPad journey. I'm excited about this new trend as it helps me save on paper and ink and put my iPad to use.
What note-taking app to use?
Have a creative mind burning with ideas? Digital planning is one of the best ways to stay organized—and one of the most popular ways of doing that is with the Goodnotes app.
It is a note-taking app compatible with all Apple devices (iPad, iPhone, Mac). Download it from the App Store, and try it for FREE (with three notebooks only) or upgrade to unlimited notebooks.
With the note-taking app installed, let's start to download stickers and have fun with the digital planner! I'll cover the essential steps in this blog post.
Goodnotes is not the only note-taking app that you can use, however is the best one to handle images and stickers. Anyway, you can also try Noteshelf (also an amazing app!) or Notability too (less amazing for images).
Eager to discover which app is best for you? Grab a coffee and discover:
What is a digital sticker?
It's like bringing your washi tape to your iPad.
Digital planner stickers are similar to paper stickers, except they are used virtually on the tablet.
Most digital stickers come in an individual PNG or JPG image format, ready to download to your app.
PNG stickers usually have a transparent background and fit nicely anywhere on white background, colored background, dots, or grid templates
JPG stickers come with either white or colored background and hide elements on your planner's page.
The functional and decorative stickers I offer on my Etsy shop may be a good start for you, so check them out.
How to Download Digital Stickers and Save To Your Bullet Journal in Goodnotes?
Goodnotes app offers high flexibility and makes decoration fun and easy. You can also use the Noteshelf app, but Goodnotes is best for stickers.
Generally, there are two options to decorate your life bullet journal, and it depends on how you want to store the stickers. I'll explain it below in this blog post.
Method 1 – Add digital planner stickers to the "Elements" tool
This method is only valid for Goodnotes, and you'll use the built-in Elements feature of this PDF annotation app.
The Elements give you access to free digital planner stickers that you can use straight away. To access these free digital stickers, open one of the notebooks, enter the Editing Mode and tap the Star icon (between the Lasso and the Image tool) to select the decorative stickers.
Extra tip: How to add stickers to Elements in GoodNotes
Step 1: Open the Elements tool
Step 2: on the bottom of the Elements, slide the stickers categories until you see a + icon
Step 3: click the + icon and Add Photos from the Photo Gallery or Import from… Files app or Dropbox
Step 4: use the lasso tool to move the sticker around
Method 2 – Save images On The iPad, Dropbox, or Photo Gallery, then Drag & Drop them to Goodnotes 5
If you don't want to use the Elements tool to store your digital planner stickers, download them to the iPad Files, Dropbox, or Photo Gallery, and then Drag & Drop them to your digital planner.
Step 1: Download the stickers in your Files, Dropbox or Photo Gallery
Step 2: Split the screen and open your digital planner in Good notes side-by-side with the stickers folder
Step 3: Drag & drop your sticker to the digital planner pages
Step 4: Use the lasso tool to select the digital planner stickers you want to move around the page
Step 5: Move or resize them as desired on your digital planner page
Import stickers from the camera roll
Download the sticker sheet into the Camera Roll. Open a digital bullet journal in Goodnotes, enter the Editing Mode, and tap on the Image icon. Select the sticker you want to add from the Photo Gallery or Import from… Files or Dropbox.
Adding stickers from a ZIP file
Many digital planner creators offer pre-cropped digital images in PNG format (the sticker has a transparent background) and JPG format (the sticker has a white background).
Most creators organize and sell their digital planner stickers in ZIP files.
download the ZIP file on the tablet (usually in the Downloads folder)
click it once to unzip and reveal all individual PNG stickers
open your digital bullet journal and add each PNG to Elements, or drag and drop them to your bullet journal pages
And that's it! You now know how to download stickers to Good notes.
And if you're ready to test it, I have a FREE-digital-planner waiting for you.
Warning: it may get addictive to using these pdf planner templates
Tips on how to use digital stickers for Goodnotes
Using a Digital Sticker Book
The Elements feature acts as a digital stickers book. However, you can also use a beautifully crafted digital sticker book as a separate notebook to download and organize all your digital stickers in 30 Themes (easy to navigate with hyperlinks).
After you download this notebook you can duplicate and use it as many times you want. If you're looking for freebies digital stickers, look for digital stickers creators on etsy, then check their website for freebies.
Functional and Number Stickers for GoodNotes
Download Numbers, Stars, Hearts, Arrows, Dots, Likes, and Dislikes stickers to improve your digital planner layouts. Mark your favorite book, highlight your priorities, schedule watching movies, shows, etc.
Food Stickers
Use yummy labels for your meal planning or upload photos of your favorite foods to create your personalized meal planner inside the Outline Planner.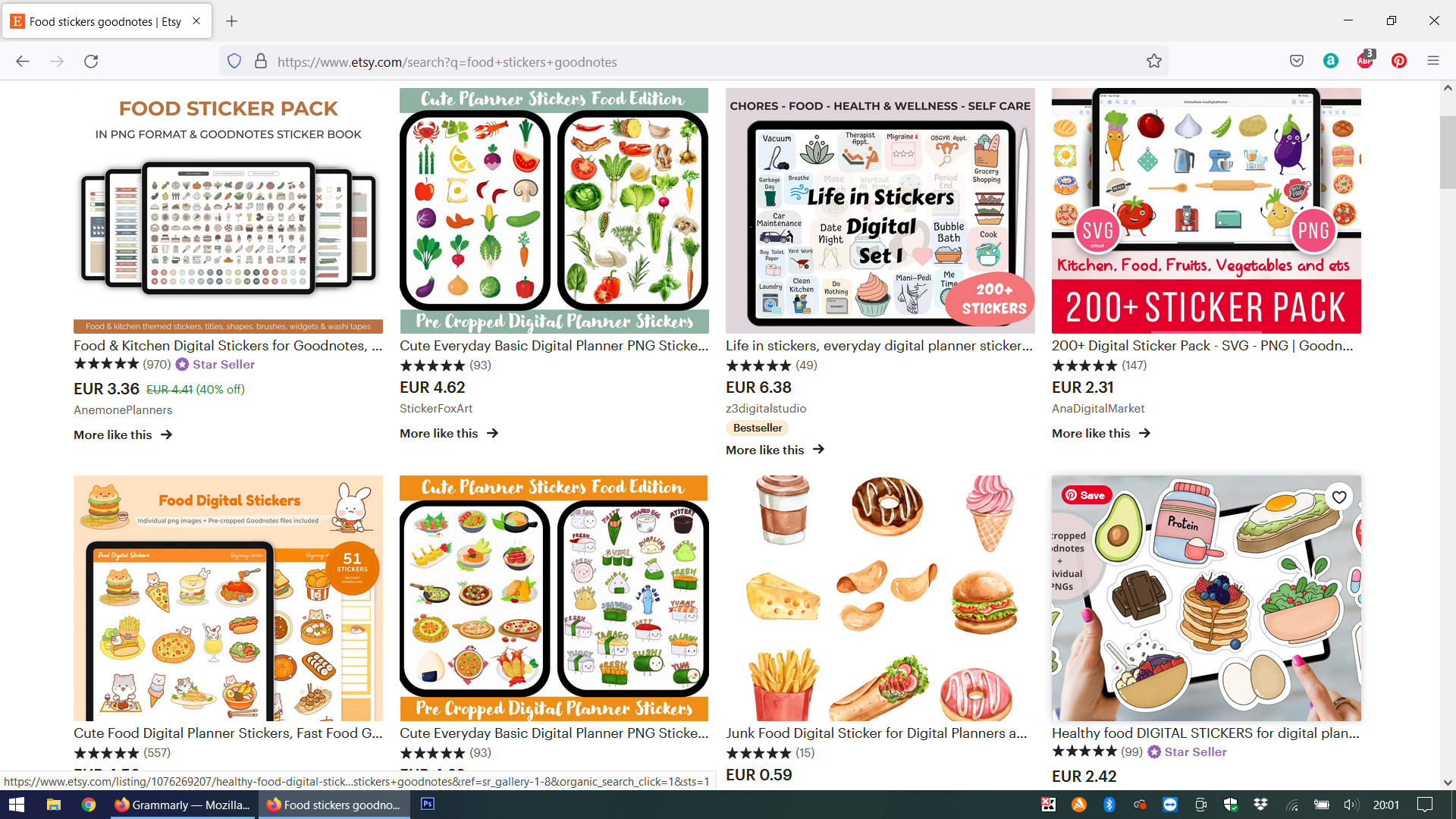 Fitness Stickers
Use stickers designed for fitness enthusiasts! On Etsy, you've got lots of cool stickers to download and enhance your personal planner.
Flowers & Plants – Inspiring Goodnotes Stickers
Make your bullet journal beautiful choosing from a variety of flowers and plants ready to download from Etsy. Give each new page a lovely floral backdrop, accent your mood and live every day.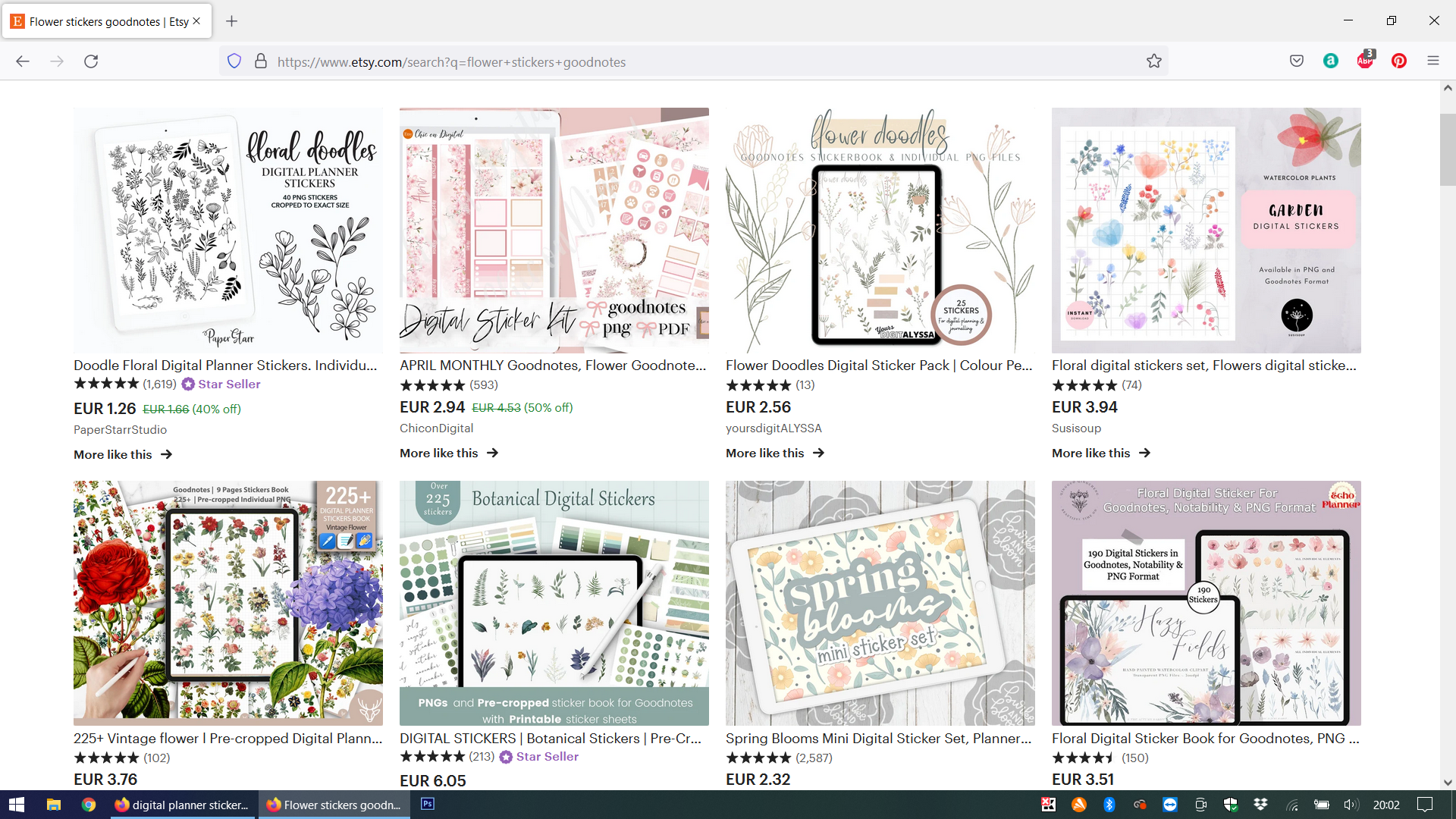 Money & Finance Stickers
Make your financial transactions look fun and keep an accurate record of your expenses.
Travel Stickers
It's cool to get prepared for a vacation after a long period of hard work. Why not reflect the vacation feeling on your digital planning pages?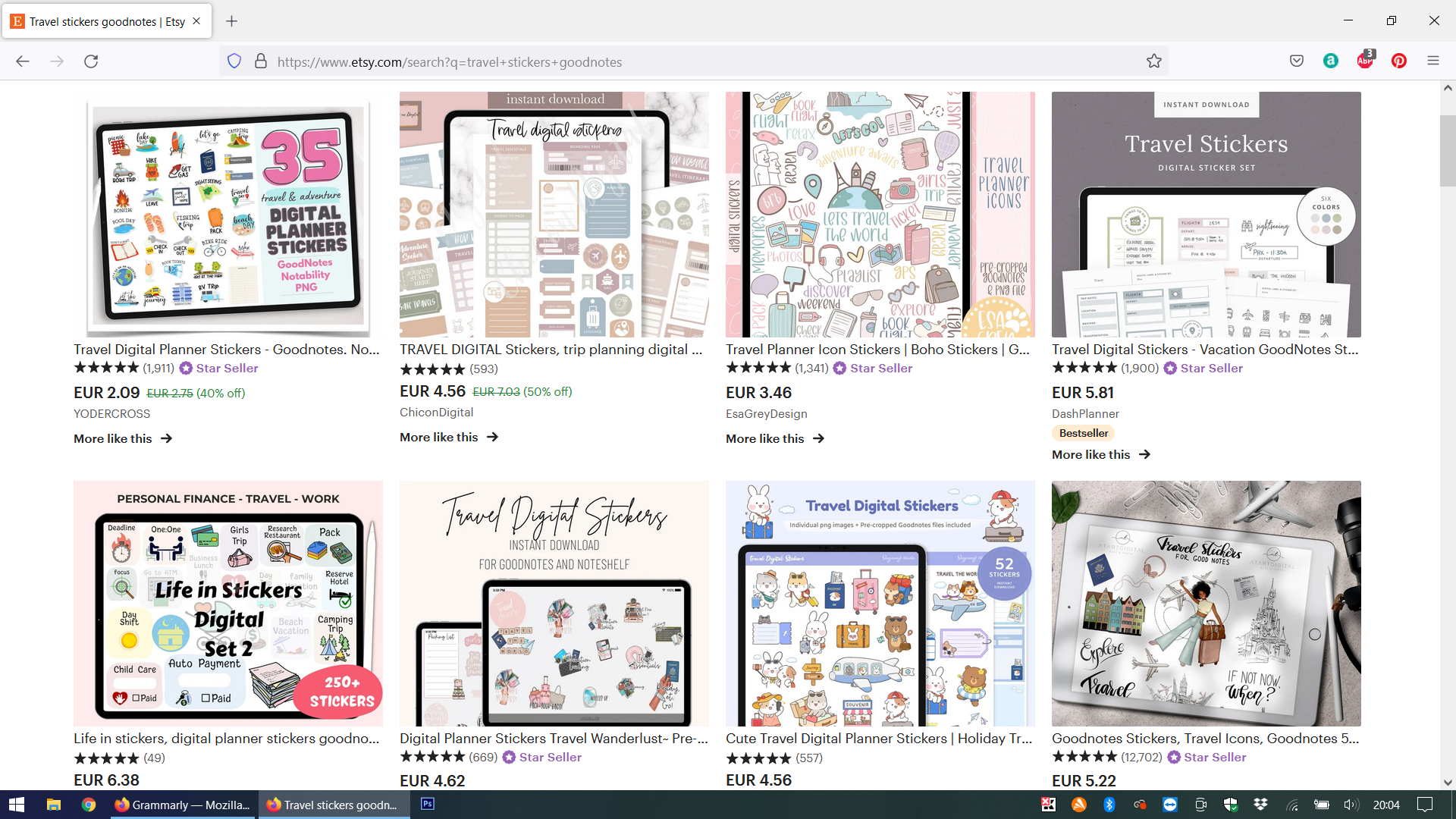 Decorative digital planner stickers
Express your personality when you're bullet journaling. Download decorative stickers to customize your digital calendar layouts, like the monthly page or the weekly spread.
Are digital stickers for you?
You'll have to try and see.
Ever since I started my digital planning journey in 2018, I have tried a series of stickers, however I decided that I am more of a note-taker than a page decorator.